Our Mission
The mission of the Barbara Lewis King Scholarship Foundation, Inc. (BLKSF) is to invest in the future of individuals through a scholarship program, awarding one time scholarships to graduating high school students, technical students, college students, and graduate students who have demonstrated academic or artistic merit and civic responsibility.
3 ways to show your support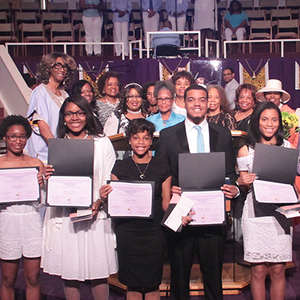 Support the Annual Fundraising Events
Join our 25th Anniversary Fundraising Champions and make your donation today. The Barbara Lewis King Scholarship Foundation, Inc. is celebrating 25 years of awarding scholarships to deserving students seeking their dreams through higher education.
donate
Donate
Save our students from excessive student debt.  Donate today to help students reach their educational goals
Donate
Sponsor the College Workshop Series
The Foundation sponsors four College Preparatory Workshops each year.
• Scholarships: Organize, Prepare, Apply
• Writing Winning College Essays
• ABC's of Financial Literacy 
These workshops are presented free to students and their parents.  Sponsors are needed to help offset the cost of presenting these workshops.
DONATE
Our Founder | Thena Monts Norman
I came upon the idea of establishing a scholarship fund, as I had seen throughout the years how so many of our students were qualified to attend a college or university, but for the lack of financial resources a higher education was unattainable.  I believed by establishing a fund, we as a people could help our aspiring students acquire a college degree.   I went to my spiritual leader Bishop Dr. Barbara Lewis King and asked her for her guidance and encouragement, and through those conversations the Barbara Lewis King Scholarship Fund was established.
It has been 20 years since this fund was created and I am proud to see the idea of establishing a scholarship fund to help our students has not only come into fruition but has helped a large number of students achieve their goals and aspirations.